Use ISketchPhotoPro in a few steps…
1/ Open the photo to be corrected or drag and drop it… The MacOS will ask your permission
3/ Presets: Click on the 'Preset'pop up, you can scroll different effects. Click on one to select it
4/ A series of Presets are available, you may alternatively add to the library by saving in the folder of you choice (Use Preferences to give a permanent folder location ISketchPhotoPro will scan and add to the effect list)

Recall/Save/ a new SketchEffect
5/ When you are ready to save your effect, click on Export

Select the output format, a new Crop/Resize panel will open to let you adjust the final size or location of your pattern
6/ Customize an effect. (Check the tab to activate)
'PencilChange ' to adjust the sketch depending upon the nature of your photo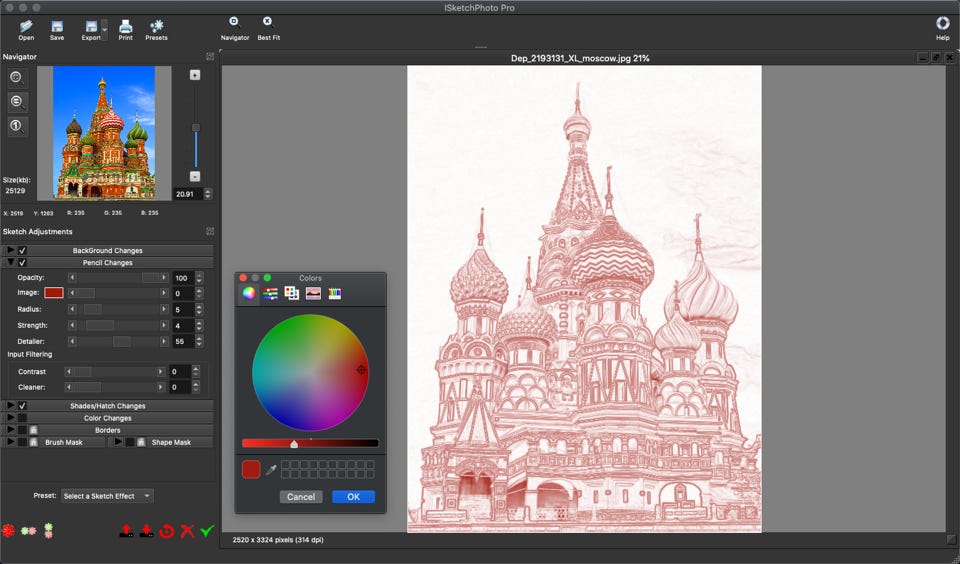 7/ Customize an effect. Use the different tabs on the left, and check to activate and modify the effect.
'Background Change''to simulate a new per/background on which the sketch is applied… scroll the library to experiment!
8/ Customize an effect. (Check the tab to activate)
'Borders ' to an a new border around the photo. Adjust the size and color
©1991-2023 HumanSoftwareCompany Inc.